Unlock Learning
Potential Through
Tutoring
Arlene Corriveau serves as the director, consultant, evaluator and tutor with Dynamic Tutoring. Mrs. Corriveau is a graduate of Eastern Michigan University holding both a Bachelor of Science and a Master of Arts degrees in education. She has completed thirty additional credit hours in learning disabilities and special education toward a Specialist degree. Mrs. Corriveau was acknowledged with the Lifetime Achievement Award for Education by Marquis Who's Who in 2019.
Mrs.Corriveau taught in Utica Public Schools, Van Buren Community Schools, Lincoln Consolidated Schools and Wayne-Westland Community Schools. She devoted thirty-three years to public education as-a classroom-teacher, as a diagnostician, and a learning consultant. She also served as an Assistant Professor at Eastern Michigan University teaching methods of reading and language arts to future teachers. Upon retiring from public education in 1992, she engaged herself full-time with Dynamic Tutoring.
Mrs. Corriveau is a member of the Michigan Reading Association, the Learning Disabilities Association, CHADD and the Ann Arbor Chamber of Commerce. She has made several presentations at the Michigan Reading Association and the Learning Disabilities Association. She has also served as a consultant on learning styles to several school districts in the state.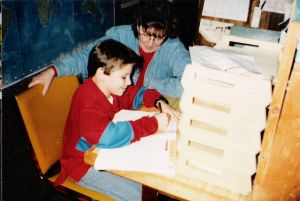 The tutors are carefully screened and tested for teaching their areas of expertise. Currently the staff consists of six professional educators. They instruct clients, from pre-school through adults, in reading, writing, spelling, science, social studies and mathematics.