Unlock Learning
Potential Through
Tutoring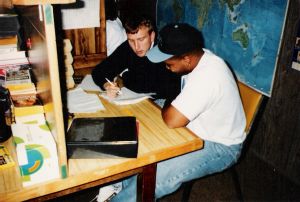 Dynamic Tutoring Service was founded in 1979 by Albert and Arlene Corriveau near Ann Arbor, Michigan in Ypsilanti, Michigan. As professional educators, the Corriveau's greatest joy was helping others, especially people who were educationally challenged. Their mission was, and continues to be, to unlock learning potential to achieve the maximum of a student's capacity.
One-on-One Instruction
School-Based Programs
Summer-Intensified Programs
---
COVID-19 Information
We do temperature checks, face masks are required and hand-sanitizing.
---
2021-2022 Schedule
| | |
| --- | --- |
| Sept. 7 | Fall Term Begins |
| Nov. 24-26 | Thanksgiving Recess |
| Dec. 18-Jan. 2 | Winter Break |
| Jan. 3 | Winter Term Begins |
| Jan. 17 | MLK Day |
| Mar. 28-Apr. 1 | Spring Break |
| Apr 4 | Spring Term Begins |
| May 30 | Memorial Day |
| June 13-July 15 | Summer Session I |
| July 18-Aug. 19 | Summer Session II |
| Sept. 6 | Fall Term 2022 |